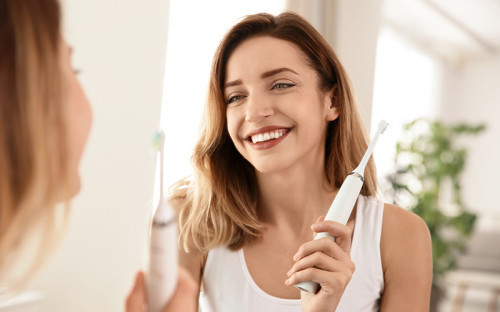 18 Dec

The Benefits of an Electric Toothbrush

The holidays are here and we get a lot of questions about electric toothbrushes and the pros and cons associated with them. Are they worth it? Do they help more than a regular brush? Let's take a quick look at how electric toothbrushes can benefit your overall oral health outlook and why we like them as a valuable tool to promote general health and maintenance of your teeth and gums.

There are plenty of benefits to using an electric toothbrush. For instance, many electric toothbrushes come with a variety of settings including an internal timer that helps users manage their brushing time. We recommend (along with the American Dental Association) brushing for at least two minutes a day, twice a day. While many people will not set a specific timer to measure their brush time, the use of an electric toothbrush can help people achieve this daily goal with increased regularity.

People with dexterity or mobility issues can also benefit greatly from the convenience of an electric toothbrush. Sufferers of chronic arthritis, tremors, and other developmental disabilities that would normally hinder them from completing a normal brushing routine can take full advantage of the powered toothbrush and its mechanical assistance.

There are a variety of types of electric toothbrushes, from vibrating to fully oscillating heads the results of multiple studies show the same results—electric toothbrushes are more efficient at removal of plaque as well as a reduction in gingivitis. More research shows that gingivitis is reduced by over 10% and plaque is reduced by over 20% by incorporating an electric toothbrush instead of a manual toothbrush in routine oral and dental care.

If we're looking for cons regarding electric toothbrushes, it would lie more in the initial cost of purchasing one. The long term investment in your dental health is worth the cost, in our opinion. Do some research of your own to determine what electric toothbrush would best suit you, and feel free to ask your friends here at McIlwain Dental for an opinion as well.

Happy Holidays, and a healthy New Year to you as well!