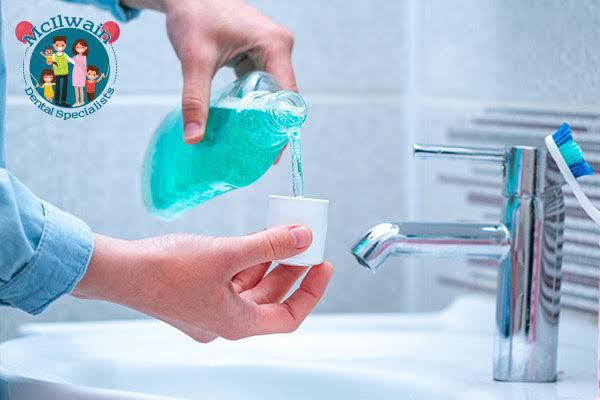 15 Aug

Easy 3-Ingredient Mouthwash You Can Make At Home

Hello friends! The COVID-19 pandemic has certainly made 2020 more difficult for everyone.
We sincerely hope that you and your families have all been able to stay safe and stay as
healthy as possible. While you maybe haven't been able to keep the normal routine you're used
to when it comes to regular doctor visits, it's important to maintain a good schedule of healthy
habits, especially when it comes to oral health.

If you are concerned about leaving the house more than you absolutely need to, there are ways
to manage your oral health at home. There are even some creative things you can share with
your children or grandchildren to not only keep them living a healthy lifestyle, but also give them
something different to do to entertain themselves as well.

Making a batch of homemade mouthwash can help you conquer the monotony of staying home
without having to sacrifice the potential health benefits of doing so. Take a look at this recipe.
It's an old family favorite that you can try at home with a couple of common household
ingredients.

Three Ingredient Mouthwash
Half teaspoon of turmeric
Half teaspoon of baking soda
One cup of water
This is a simple three-ingredient recipe that doesn't take long to make but is effective at helping
you maintain a healthy mouth! Turmeric is part of the ginger family, and is often found in Asian
and Middle Eastern cuisine. Turmeric is filled with antioxidants which can possibly help with
inflammation and irritation that is associated with gingivitis and periodontitis. It's not a cure by
any means, but it can possibly help you ease the symptoms. Baking soda is a general use,
multi-purpose wonder! In addition to its many uses, baking soda helps combat bad breath and
plaque while simultaneously cleaning your teeth and invigorating your gums in their constant
fight against gum disease. Oh wait, did we forget to mention the antifungal and antibacterial
benefits? Like we said, baking soda is kind of a big deal.
Mix these three ingredients together with a whisk or blender and use one tablespoon of this
mixture as needed for a quick and effective rinse for your health.
We here at Mcllwain Dental Specialists want to see you again, hopefully soon, but until you feel
ready to come back and see us, it's important to do what you can to maintain your oral health!