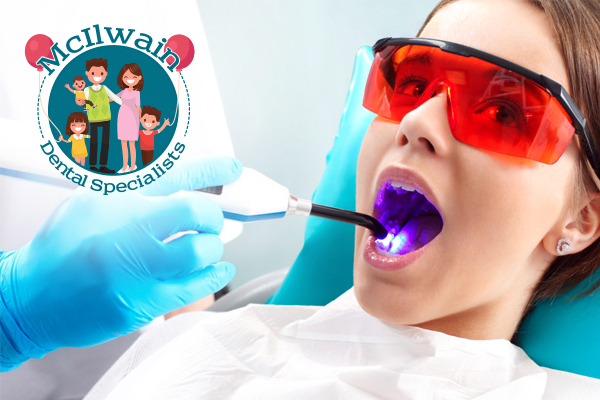 31 May

Bright, White, and Painless: Laser Fillings

Walking through your dentist office's doors may come with a whole host of mixed emotions for you, and "completely pleasant" may not necessarily be the words you have in mind when you know you're coming in for a filling.

After all, while not altogether awful, we understand that getting a numbing shot and having a small drill inserted in your mouth may not exactly fit your idea of an afternoon pick-me-up, either.

And that's why we're here to tell you that there's an alternative to that, now: laser white fillings.
What Is A Filling, and Why Would I Need One?
A common practice of general dentistry and pediatric dentistry, fillings become necessary when you have a small cavity or area of decay in your tooth.
To restore the integrity of your tooth, a restorative material — typically a variation of metal amalgam or composite resin — is used to "fill in" the space in the tooth, thus restoring the tooth to health and ensuring that the cavity doesn't spread further.
Without a filling, the tooth decay could spread and result in infection and/or the need for a root canal.
What Are Laser White Fillings and How Do They Work?
Laser white fillings in small cavities, eliminate the need for a shot altogether and ultimately result in a clean filling that is more comfortable than any other sort of traditional filling.
Plus, by using this form of innovative technology to meet your dental needs, we're able to remove your cavity with more precision, removing less of the tooth itself to insert the filling and maintaining your tooth's overall structural strength for a lifetime! Another big advantage of using the laser to fix cavities is the light emitted from high powered lasers are bactericidal and therefore eradicate the bacteria that causes cavities.
The "shotless filling" you thought was impossible is now a reality, making it even easier to live up to our promise that your comfort is our priority.
If you are in need of a dental check-up or have any further questions about laser white fillings, make sure to contact us today! Here at McIlwain Dental Specialists, healthy smiles are for all ages and, with 40 years of dental excellence, you'll find the service, expertise, and excellence you are looking for when it comes to routine dental care.